January 29, 2008
figured id post up my build on here, kinda curious how this thing is gonna turn out.
found a 93 s10 blazer 4x4 on craigslist abou 30 miles away. guy wanted $350 so couldnt pass it up. got a good running 4.3 even at 200,000 miles. ill leave that in there for the time being, front axle was busted (like it matters) overdrive is trashed (dont matter either)
here is is when i got it to work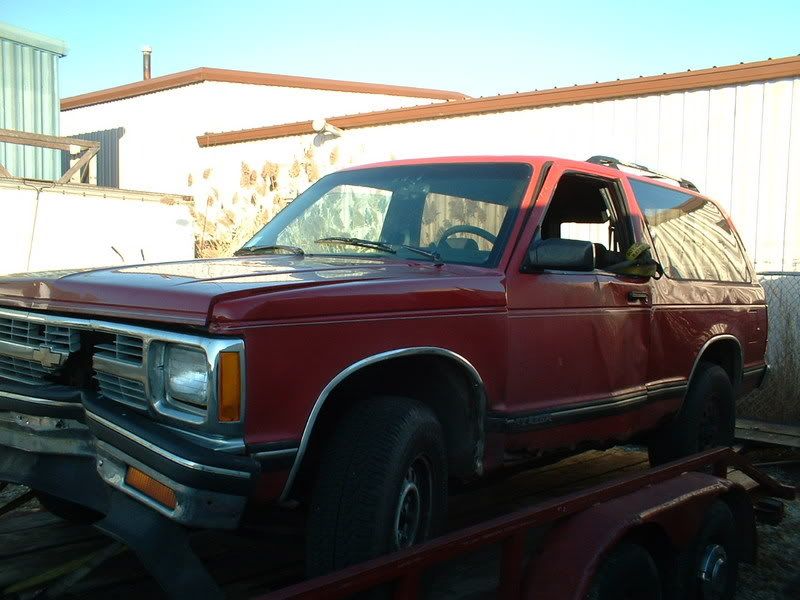 drove it around for like a hour just to make sure everything works. heater core is really bad on it, smoke just starts to barrel out of the defrosts after its warmed up.
a few weeks later brought it home and started to tear all the crap i dont need off of it, basicly the fun part. had to use a sawzall and cut off wheel cause my torches were elseware
so basicly im at a stand still trying to figure out the front crossmember set up, i got a pretty good idea from some other builds, but the angle of the spring looks kinda weird,
thats basicly the position i want it at but its tiped towards the back a little.
if i make it so its straight like in this picture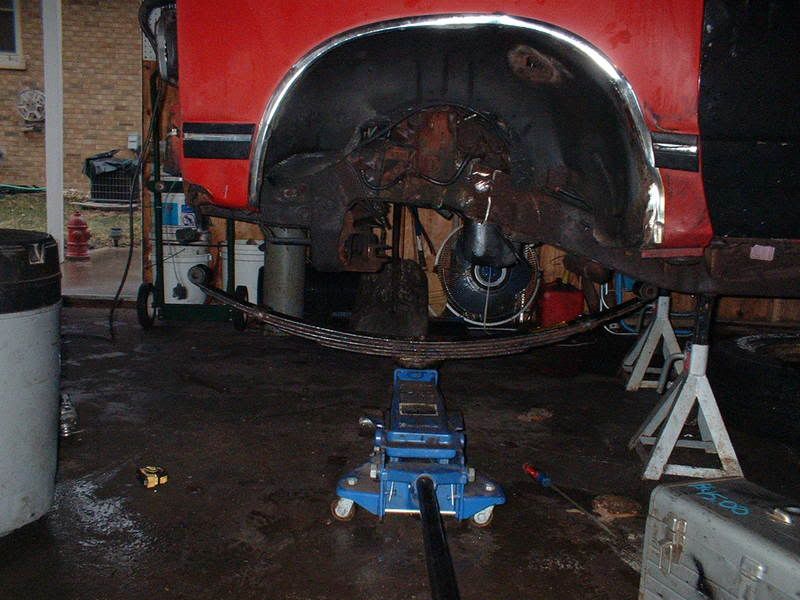 then the crossmember had to hang down really low which id be afraid of something breaking off.
any advice **or** tips is welcome. this thing is gonna be a trailer queen only so you dont have to worry about it being on the street, heck i doubt ill even clean up the cut 4x4 and IFS brackets just for that extra personality
price so far....
truck - 350
front crossmember - free
astro van steering box - 19
both doors - 75
flat top knuckles - 18
6 leaf spring bolts 2 shackles and ubolts and nuts for axles - 93
flat top steering arm and stud kit $115
3x4 3/16 square tubing for rear hangers of front spring, 2 feet - $22
rear spring perches - 18
rear u-bolts - 38
power steering pressure hose 21
oil filter fitting (part to relocate oilfilter back to block)- 8
drag link - 86
welding - 195 (my welder sucks)
stainless steel brake lines and other brake stuff - 100
tie rod - 19
floor shifter for np208 from junkyard - 19
1 rear brake rotor - 40
rear shocks - 95
front f250 shock towers 28
front bumper 100
3x4 inch square tubing for front brackets 14
price so far including truck 4/19/08 - $1,473.00
roll cage material approx- $250
about 8lbs of flux core wire - $80
6 tubes of purple pool noodles $9
33/14.50/15 boggers $300